| | |
| --- | --- |
| HEAD AND SHOULDERS | $15,000 |
| HALF LENGTH FIGURE (includes hands) | $18,000 |
| THREE QUARTER LENGTH FIGURE | $21,000 |
| FULL LENGTH FIGURE | $24,000 |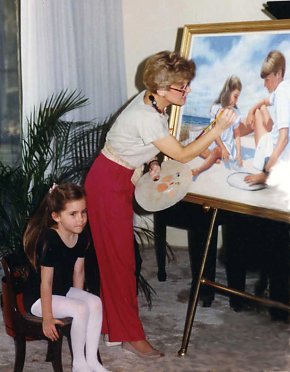 Prices listed are for a single figure painted approximately life size, using archival oils on Belgian linen.

Canvas size is determined by artist and client. Additional figures and pets will be priced by quote.


Charcoal or graphite portraits on archival paper may be commissioned for 1/3 of the oil on linen prices.

Framing, shipping, travel and accommodation expenses are additional.

A 40% deposit is required to confirm an accepted commission. The balance of the fee is due upon the portrait's completion and the client's full approval of the portrait.



Ms. Lee encourages her clients' involvement in all the decision making stages. Before the first sitting, she will begin to plan the portrait as the client envisions it, discussing by phone such aspects as mood, size, setting, and clothing. At the client's chosen location, Ms. Lee will complete an extensive photo shoot, typically lasting one to two hours. Ms. Lee and the client will review the photographs together to determine the best poses and expressions. The photographs, along with color notes and sketches, will be used as the artist's references for creating the portrait.

After returning to her studio, Ms. Lee will make preliminary sketches of the portrait composition. For paintings larger than head & shoulders, a sketch of the composition will be shipped to the client for approval before the painting is started. After the preliminary sketch has been approved and the final size of the canvas has been determined, Ms. Lee will begin painting the portrait.

When the portrait is completed, a photo or digital image will be sent to the client for approval, and arrangements will be made for the portrait to be delivered or shipped. Ms. Lee will offer framing advice and arrange to have the portrait framed before it is delivered, if the client so desires.

Current delivery time is approximately 18-24 months.